Pricing - Audition Facilities
Audition Services
| | |
| --- | --- |
| 15 min. audition session | $25.00 |
| 30 min. audition session | $40.00 |
| 45 min. audition session | $55.00 |
| | |
Prices do not include applicable taxes

Laura Vandervoort - Member Since 2000 - "Smallville" & "V"

"I am from Toronto and often work/live in Vancouver. It can be rather difficult to film, light and find actors to be my readers when I have audition tapes to do...and a deadline. Casting Workbook makes that stress disappear and makes the task that much easier for me. I call and book a session as quickly as I need to. They always have someone available to read with me and the lighting always looks great. I am always very happy with the outcome of my tape and the amount of time they allow for me to get what I want done. It is also a very easy going atmosphere which helps when you need to relax and focus. My auditions are edited and sent the day I need them to be and their facility has allowed me to get my work done exactly as I wish." ~ Laura Vandervoort.
Roark Critchlow - Frequent Client - "Days Of Our Lives," "Entourage" & "Battlestar Galactica"

"As an actor who has to tape auditions a lot, I would like to heartily recommend Trevar at The Casting Workbook. The quality is consistently excellent, with production level lighting, camera and sound. The atmosphere is comfortable while still being professional, and the staff there are pleasant and helpful. Kelli on the front desk is particularly welcoming, and Trevar as camera operator is a pleasure to work with. The finished scenes are delivered promptly and efficiently, and they are willing to work with you to get it done right. Top notch." ~ Roark Critchlow
Callum Blue - Frequent Client - "The Tudors," "Dead Like Me" & "Smallville"

"I use 'The Casting Workbook' every time I'm in Vancouver filming, and I can't praise them highly enough. The studio is not only conveniently located but also welcoming and really well furnished. The staff are an efficient and really friendly bunch, who listen closely to what you want, and execute your needs in a proficient and easy manner. But most importantly, the link to the actors work that go out to casting directors/producers/directors looks amazing and adds a nice polished look to any audition." ~ Callum Blue
Eric Johnson - Member since 2002 - Frequent Client - "Falcon Beach," & "Flash Gordon"

"Worry free and hassle free with friendly people. Quite simply there is no easier way for me to get myself on tape. Whether it has to be a DVD or a digital file, The Casting Workbook are prompt, efficient and get the audition out on time, everytime. When a casting director needs something ASAP, I call the Casting Workbook." ~ Eric Johnson
Managed Audition Services
| | |
| --- | --- |
| 15 min. audition session | $25.00 |
| 30 min. audition session | $40.00 |
| 45 min. audition session | $55.00 |
Unmanned Audition Services
| | |
| --- | --- |
| 30 min. audition session | $20.00 |
| 60 min. audition session | $40.00 |
Prices do not include applicable taxes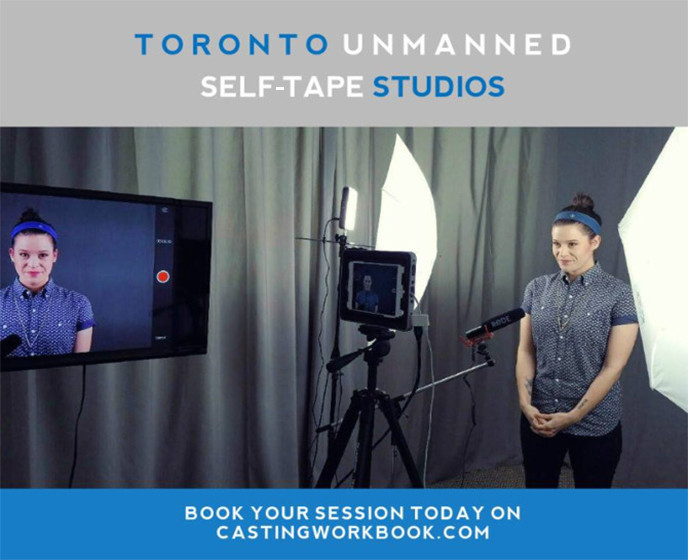 Audition Services
| | |
| --- | --- |
| 30 min. audition session | $40.00 |
| 60 min. audition session | $60.00 |
| | |

Kim Poirier - Member Since 2000 - "Paradise Falls," "Silent But Deadly," & "Foodland"

"My experience at Casting Workbook has been one of great success over the years. I booked 'Silent But Deadly' there (starring Jason Mewes, Jorden Prentice and William Sadler), 'Happy Town' (starring Sam Neil, Amy Acker and M.C. Gainey) and came close on many others. The lighting is great, and they have a professional, friendly staff to work with, whether you are in Toronto, Vancouver, or Los Angeles. They are prompt and reliable at delivering material with precision and sharpness. No matter the city, I know I can always count on them." ~ Kim Poirier
Jessalyn Wanlim - Frequent Client - "Scoundrels", "Fake It Till You Make It"

"Casting Workbook is a life saver. I live in LA, and my experience in the Vancouver office exceeded my expectations. I got an appointment right away, taped three auditions in a half hour, and the tapes were emailed to my agent an hour later. Their quality of work is professional. I couldn't have been more impressed with their work. Thanks so much for making such a hectic process so easy and seamless." ~ Jessalyn Wanlim